This is a post from my old, now deleted blog – year 2016.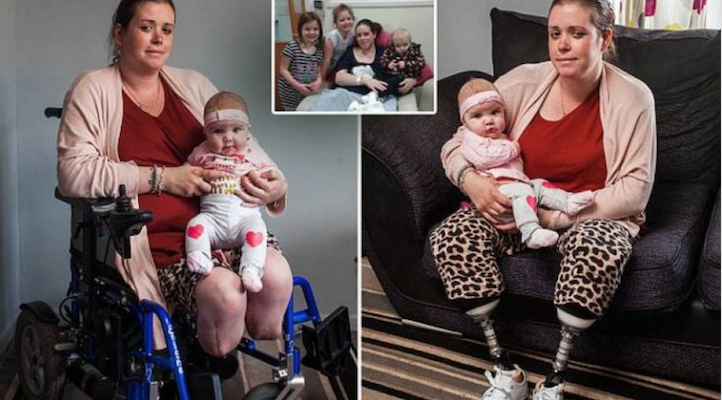 The insanity of hospital birth is escalating. Below you will find six stories regarding different women who went into a the hospital to give birth and who have left the hospital later with half of their body missing. One of the women, a young teenager, actually died. In almost all cases, the women had undergone a surgical cesarean birth and from there, not only was their baby forcibly removed, but several of the mother's organs and limbs as well.
Behold the insanity of the satanic-infested medical industry…
===================================================
Excerpt:
…Ella Clarke's routine caesarean section went horribly wrong and doctors had to remove both her legs after blood clotted in them.

Doctors delivered Winter Rose at 6lbs 5ozs, but Ella lost six litres of blood due to a complication which can affect women who have had past caesareans.

An emergency hysterectomy was performed and she had five blood transfusions.

Ella was instantly placed into an induced coma and transferred to intensive care.

She needed to be monitored hourly for the next 24 hours as she would be prone to clotting.

But doctors allegedly forgot to check. Six hours are said to have passed before she was seen and, by this point, her legs had clotted and circulation had stopped.

She was rushed into theatre where two surgeons battled to recover circulation in both legs.

But it was too late. Her tissue was already giving off poisonous toxins which could stop her heart.

The doctors decided to amputate both legs below the knee…"
===================================================
Excerpt:
"The last thing Katy really remembers is giving birth at her Houston-area home on February 10. And then this: "Waking up in the hospital with no arms and legs"
===================================================
Excerpt:
"…An Ayer woman who had all her limbs amputated after she contracted a flesh-eating bacteria while giving birth at Emerson Hospital in Concord six years ago agreed to a $9.5 million settlement in her medical-malpractice lawsuit against the doctors and nurses who treated her…

Jorge says she has had to have her uterus, ovaries, gallbladder and part of her colon removed, along with both arms and legs…"
===================================================
Excerpt:
"They amputated both her arms and legs and will not explain why…"

The hospital claims that if she wants to find out exactly what happened, she would have to sue them.

"I want to know what happened. I went to deliver my baby and I came out like this," Mejia told the media. "I woke up from surgery and I had no arms and no legs. No one told me anything. My arms and legs were just gone."
===================================================
Excerpt:
"…Lisa went to the hospital to have a baby. Within weeks she had lost three limbs, multiple organs and her career.

Lisa was unconscious as her organs died incrementally. The next day, doctors took out her ovaries and sections of her large and small intestines. On Day 5, surgeons removed her gall bladder and performed an ileostomy, which funneled her waste to a bag on her abdomen. Meanwhile, her liver couldn't keep up with the toxins that were forming in her body. And her limbs were darkening ominously…

In the burn unit, surgeons sliced out dead tissue on her mottled limbs, hoping to save as much leg as they could and at least part of her right hand. A day after that they removed her legs below the knees. When the tissue continued to die, they went in again, and then again, each time taking off more, until the legs ended just inches below her hips. Two days after they amputated her legs, they cut off her right arm, leaving a stump midway from elbow to shoulder…"
===================================================
"…A sixteen-year old girl has been diagnosed with heavy internal bleeding after a cesarean section on Wednesday night in Tyumen hospital №2. According to an Internet edition of "NewsProm.Ru", emergency unit surgeons had to cut off one of the blood vessels supplying blood to the lower limbs in order to save the young girl's life. One of her legs had to be amputated as a result of no blood circulation in her lower limbs…

A newborn is absolutely healthy. According to the latest information, his young mother has died…"
===================================================
Some people may choose to accept the mainstream stories that several of these women developed a case of "flesh-eating bacteria" (otherwise called medical professionals), but if you scroll down to the end of this blog, you will have the option to read Kerth Barker's article about how the Luciferians enjoy and even become sexually aroused by surgical mutilation. Additionally, these very sick psychopaths plan to use surgical mutilation as a form of social control. Could these women be the victims of a psychopathic Luciferian agenda? You make the call.