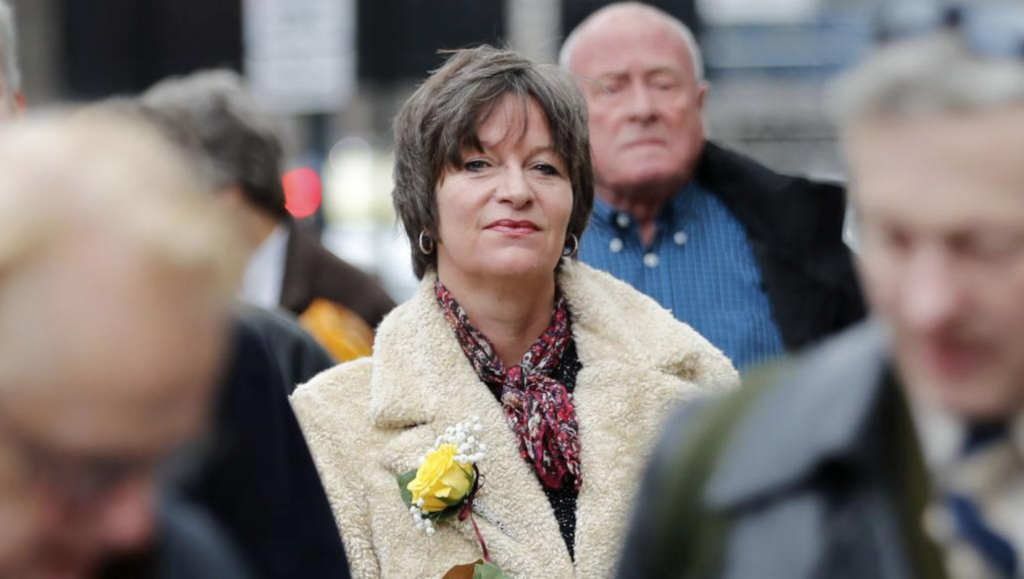 Folks – this is great news. Alison Chabloz, who was brought up on charges of posting "grossly offensive" TRUTH on social media, has received no jail time. I'm sure organized jewry is steaming mad about this but HAHAHAHA! And a big fuck you to the dark side.
Below is one of her most excellent songs, deleted from youtube and various other social media sites! Give a listen. It's truly awesome.
Source Article:
Holocaust revisionist Alison Chabloz avoids jail over antisemitic songs
https://www.thejc.com/news/uk-news/alison-chabloz-sentenced-avoids-jail-holocaust-revisionist-1.465522
A Holocaust revisionist has avoided jail after being convicted of posting "grossly offensive" antisemitic songs online.
Alison Chabloz, of Charlesworth, near Glossop, Derbyshire, was convicted of two counts of causing obscene material to be sent and one of sending obscene material last month in a landmark ruling.
District Judge John Zani sentenced Chabloz on Thursday to 20 weeks' imprisonment but suspended this for two years.
She was convicted after Judge Zani said he was "entirely satisfied" that the material was "grossly offensive" and intended to insult Jewish people.
The charges against Chabloz, 54, related to songs she performed in YouTube videos, titled Nemo's Antisemitic Universe, I Like It How It Is, performed at the right-wing London Forum in 2016, and a third, titled (((survivors))).
In the latter, Chabloz mocked Jewish figures, including Nobel Peace Prize winner Elie Wiesel, as well as Anne and Otto Frank, to the tune of Hava Nagila.
About 30 people – both supporters of Chabloz and anti-racist activists – packed into the public gallery for the sentencing.
The judge told her: "The right to freedom of speech is fundamental to a fully-functioning democratic society.
"But the law has clearly established that this right is a qualified right.
"I am entirely satisfied that you either intended to insult, or you must have recognised the risk of doing so."
He added: "I don't know whether you want to be a martyr. Only time will tell.
"This sentence will test your resolve. If you fail to abide by the terms of the suspended sentence you should expect to go to prison."
Chabloz was sentenced to two concurrent suspended prison sentences of 12 weeks for two of the charges for which she was convicted.
A suspended sentence of eight weeks was passed for the third charge, to run consecutively.
The sentence was met with cries of "Three cheers for Alison", as her supporters left the courtroom.
Chabloz's supporters clashed with anti-racist activists after the sentencing.
Chabloz had denied all five counts she faced.
Judge Zani dismissed two counts of sending obscene material. They were alternate counts relating to the same posts.
Defending the singer during the trial, Adrian Davies earlier argued that his client's songs were not "grossly offensive", adding that there is no law in England against "so-called Holocaust denial".
At sentencing, Mr Davies said the case "a difficult matter" due to her "strong views".
He argued that few people had seen Chabloz's videos before they received publicity during her trial and there was "no evidence of harm done by them".
Chabloz was subject to a private prosecution brought by the Campaign Against Antisemitism (CAA).
The charity said it took the decision because the Crown Prosecution Service failed to prosecute her, though the CPS later took up the prosecution after CAA began their own.
Judge Zani said Chabloz had no previous convictions, and had been of "good character".
Stephen Silverman, the CAA director of investigations and enforcement, said in a victim impact statement that Chabloz's songs were an insult to "those whose family members were dehumanised" by the Holocaust, as well as those who survived it.
"Her message is uncompromisingly clear: you cannot trust the Jews. There is no place for Jews in civilised society," his statement, which was read out in court, said.
"She promotes the idea of a global Jewish conspiracy. Alison Chabloz's songs are no more than an attempt to give reasons to fear and hate Jews.
"I realise much of what I have taken for granted in my 60 years of being a Jew in Britain no longer applies.
"Not so long ago these despicable views could only be articulated at the margins of society."
He added that since her conviction on May 25, supporters of Chabloz had posted threatening messages regarding Judge Zani on social media.
Chabloz was also banned from posting anything onto social media for 12 months.
She was also ordered to complete 180 hours of unpaid work, as well as a 20-day rehabilitation programme.
A restraining order was imposed on Chabloz prohibiting her from contacting CAA chairman Gideon Falter or Mr Silverman, who assisted in the prosecution.
She was ordered to pay a £115 victim surcharge, and £600 in costs by November 1.