Alison Chabloz, one of the most brilliant songwriters of our time, and someone who is clearly knowledgeable about the jewish lies regarding WW2, was barred from entering France recently for being a "holocaust revisionist."  Her AMAZING song, called "Survivors," is posted in the video below. Please share the video widely and let's keep sticking it to these bastards until everyone in the world awakens to the true nature of these beasts.

https://www.bitchute.com/video/DRe1bpouT8VK/
============================================
============================================
The antisemitic performer was stopped at St Pancras station on Monday
A self-described "Holocaust revisionist" has reportedly received a 40-year ban from entering France after attempting to board a Eurostar train to Paris on Monday.
Alison Chabloz, who was convicted last year of two counts of causing obscene material to be sent and one of sending obscene material, used her account on Gab, a social media network popular among the far-right, to say she had been "banned from entering France until 2059".
Chabloz was given a suspended prison sentence of 20 weeks last June for her "grossly offensive" antisemitic songs, including material mocking Holocaust victims and claims about Jews controlling the world. She was also banned from posting on social media for 12 months.
At an appeal hearing in February at Southwark Crown Court, the convictions were upheld, with the judge describing Chabloz as "a Holocaust denier…manifestly antisemitic and obsessed with what she perceives to be the wrongdoing of Jews".
In a post to controversial social media network Gab, Chabloz wrote that she had been "questioned first by gendarmes and then Met CTU [Counter Terrorism Unit] under Sec 7 at St Pancras."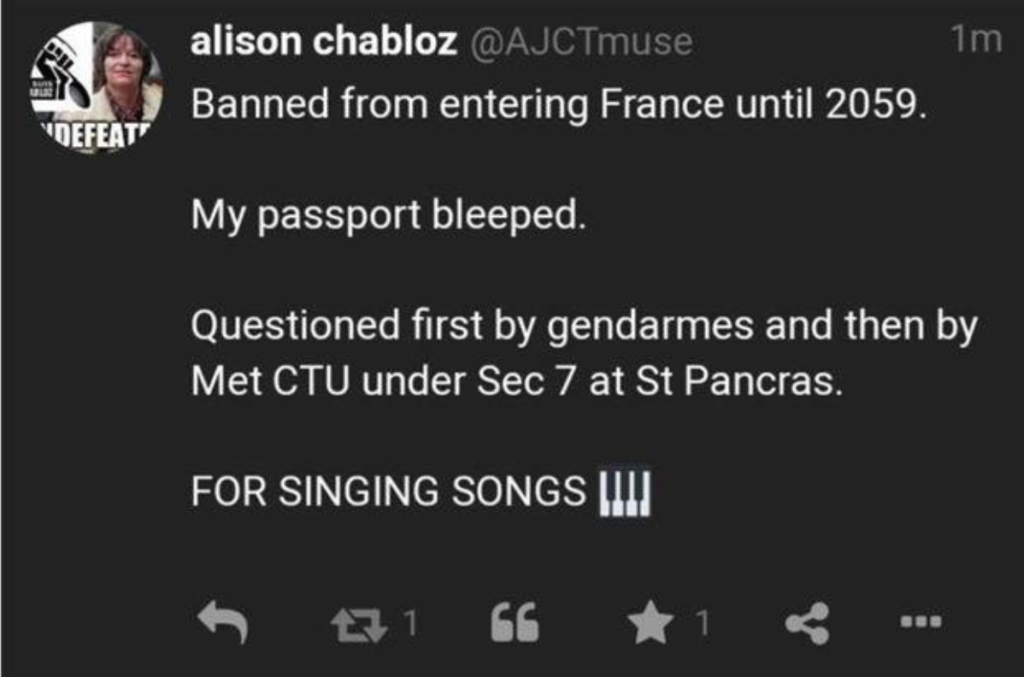 Read full article here