From the brilliant Arch Stanton:
"The Secretary of the Treasury, Steven Mnuchin, says that upwards of 20% of the workforce could be unemployed."  I swear, where do Jews come up with these names?
Regards,
– Arch
It's time once again for Arch Stanton's Theater – of – the – Absurd
Today – The Wizards of Schnozz
A Mnuchkin in charge of the Treasury?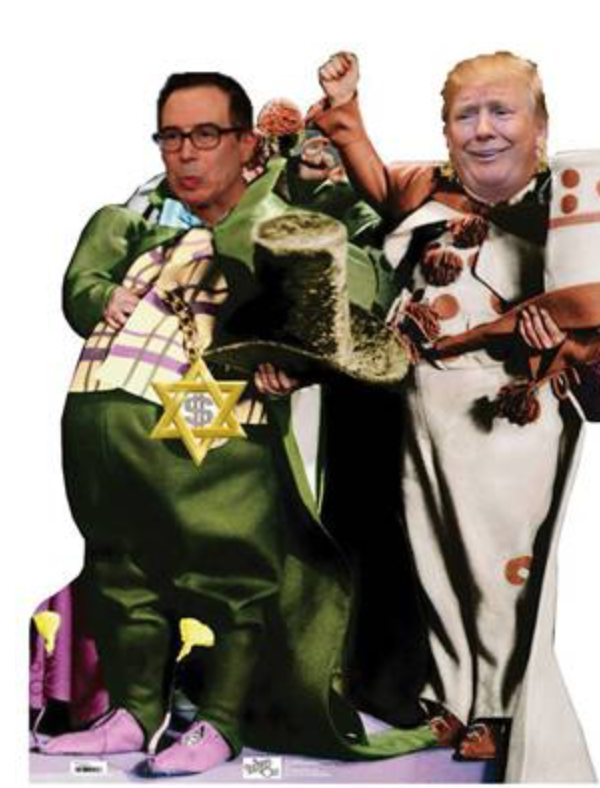 We thank you very sweetly For doing it so neatly.
You've killed them so completely that we thank you very sweetly.
Let the joyous news be spread, the wicked goyim at last are dead!
Ding Dong! The goy are dead.
boy oh boy
The wicked goy!
Ding Dong! The wicked goy are dead.
Wake up, you sleepy Jew.
Rub your eyes
Get out of bed.
Wake up, the wicked goy are dead
They've gone where the Goblins go
Below…Below…Below to Sheol
Yo — ho, let's open up and sing
And ring the bells out.
Ding Dong! The merry-oh!
Sing it high
Sing it….low
Let them know
The wicked Goy are dead!
As Secretary Mnuchkin of the Treasury in this nation of the Schnozz, I welcome you most regally


JEW BARRISTER
But we've got to verify it legally, To see…
SECRETARY MNUCHKIN
To see?
JEW BARRISTER
If they…
SECRETARY MNUCHKIN
If they?
JEW BARRISTER
Are morally, ethic'ly
JEW NO. 1
Spiritually, physically
JEW NO. 2
Positively, absolutely
ALL JEWS
Undeniably and reliably Dead!