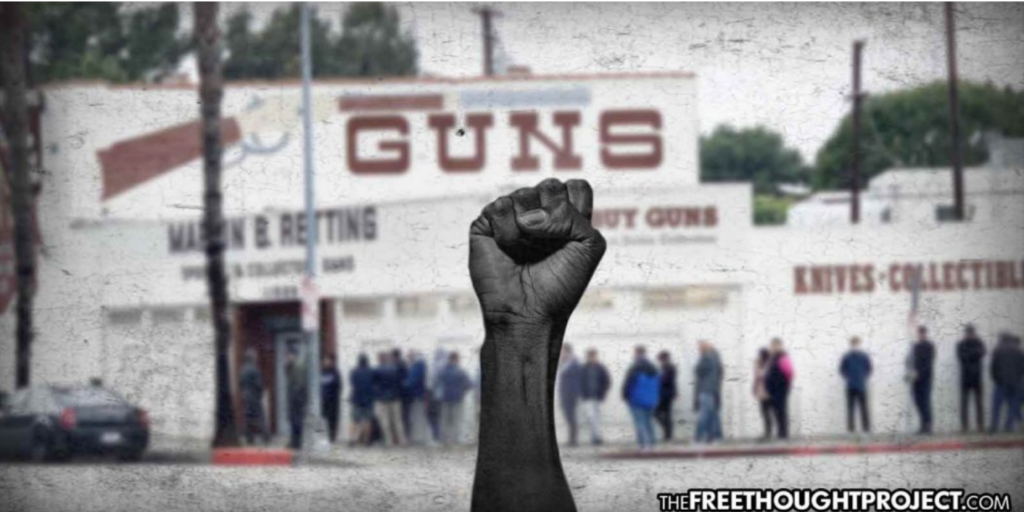 Well it certainly seems that things are not working out quite the way the jews had hoped.  And it is a sure bet they are extremely nervous right now because Americans are armed to the teeth and will no doubt turn these weapons against the jews when they realize who is responsible for crashing the economy, holding back supplies, forcing people out of work, etc.
I would put money on the fact that this whole damn coronavirus nonsense is going to turn against the jews and cause their demise.  I anxiously await this outcome.
With so much uncertainty on the horizon during the COVID-19 outbreak, there has never been a better time for a citizen to be prepared to defend themselves and their family. The market is reacting appropriately to this demand and business has boomed for the gun industry over the past two weeks, with long lines stretching outside gun stores across the country. The Wall Street Journal reports that on March 16, background checks were up 300% compared with the same day last year, according to federal data shared with the National Shooting Sports Foundation.
Bottom line, Americans want their guns.
However, in March, the act of buying a gun became increasingly harder to do in many areas of the country thanks to executive orders and court rulings that have shuttered gun stores from coast to coast.
While liquor stores and fast food restaurants were deemed "essential business" and allowed to stay open, stores that allow people to purchase tools for self-defense are closed. This is creating a storm of backlash against the state. The backlash has actually resulted in some positive news for those who love freedom.
Los Angeles County Sheriff Alex Villanueva issued an attack on the 2nd Amendment last week, ordering all gun stores to close their doors. In a glaring case of doublespeak, the sheriff claimed removing the citizens right to self-defense "is about taking care of people."
California Gov. Gavin Newsom — who is inches closer to dictatorship status each day — issued a list of essential businesses and left off gun stores. The good news is, however, that gun store owners are refusing to close. 
This refusal to obey a bad law, coupled with a slew of lawsuits from gun rights advocacy groups has forced the sheriff to rethink his attack on gun stores. On Friday, four groups, including the National Rifle Association of America, filed a federal lawsuit, contending that the sheriff's actions violate the constitutionally guaranteed right to bear arms. Although he didn't admit wrongdoing, his actions speak loud enough.
This week, Villanueva stated that he is abandoning his effort to shut down gun stores. As the AP reports, the sheriff said he's heeding a federal Department of Homeland Security advisory issued on Saturday that listed gun and ammunition dealers as "essential critical infrastructure workers."
As TFTP reported last week, other areas of California are practicing similar civil disobedience and refusing to shutter the doors to their guns stores.
"We have no plans to close," said David Chong, who owns AO Sword Firearms in El Cajon. "We have not heard any lawful order to shut down."
Chong, like the rest of the pro-gun rights individuals above, recognizes that the closure of gun stores is a direct attack on your Second Amendment right to bear arms.
"We have to be very careful not to get into a ridiculous situation where we are sterilizing the Second Amendment by saying, 'Oh you can keep and bear arms but you can't acquire any,'" Chong said.
"People are purchasing firearms because they're in fear for their safety," said Michael Schwartz, executive director of the San Diego County Gun Owners. "If you shut down that ability I think it's a potentially dangerous situation."
Indeed, one of the major primers of the American Revolutionary War was the British crown ordering colonists to be disarmed through the act of closing stores that sold arms — all the while keeping their own guns.
New Jersey governor Phil Murphy is a perfect example of this hypocrisy. He continues to keep gun stores closed, despite the DHS edict saying otherwise. This rights-violating tyrant defended the fact that he gets to keep his armed guards while forcing gun stores to close in the state. During a press conference on Saturday, Murphy was called out by a citizen for this very reason.
"The poorest minorities living in the most dangerous cities with the highest crime rates now have absolutely no way of buying a firearm. I lived in Newark and I understand this firsthand. You surround yourself with armed guards, so clearly you understand the benefit of the Second Amendment.
"At this moment, how can a New Jersey resident who isn't already a gun owner exercise their Second Amendment rights?" he asked.
Murphy the claimed to have a "philosophical disagreement" with people who argue in favor of more guns.
"A safer society, for my taste, has fewer guns and not more guns," the governor said.
"Particularly, trained members of law enforcement like the guy to my left who's got a pistol on his hip," Murphy said — pointing out the fact that guns are currently keeping him safe. "I don't know if there's any more color to add beyond that."
"I don't want to be disrespectful, but it is what it is," he added. "Crime has been down and let's hope it stays down."
"Well, it's not in my system, it's part of the Constitution," the man fired back. "People do have the right to defend themselves."
When government is systematically removing your right to defend yourself during one of the most defining crises of our lifetime — through the barrels of their guns — that government is not looking out for you. It is protecting itself. Hopefully, more cities in the US who have restricted gun rights also refuse to obey. After all, most positive change comes through good people disobeying bad laws.