Makes me proud to be Italian!
GO ITALY!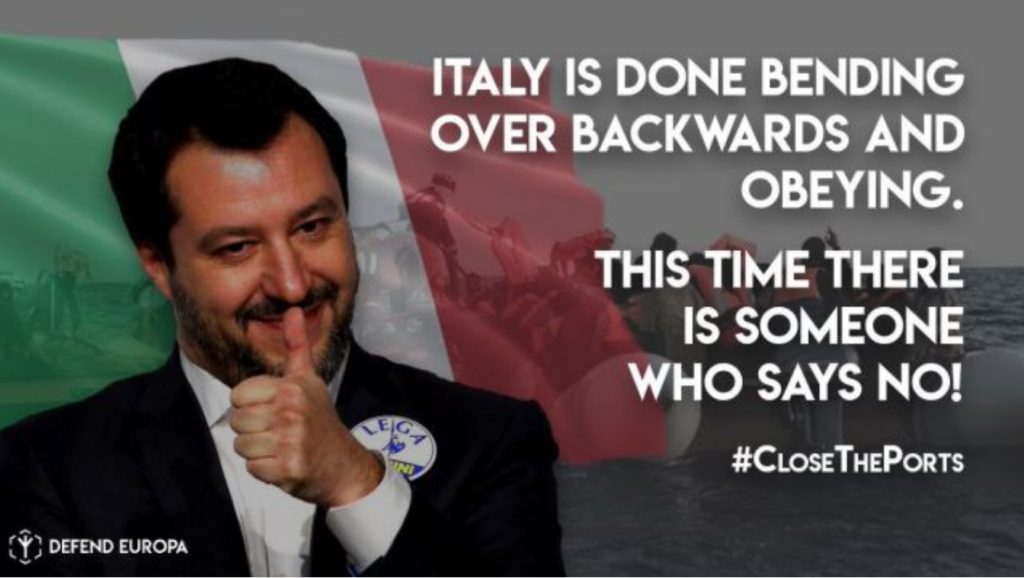 Source Article:
ITALY TURNS THE BLACK TIDE
https://europeansworldwide.wordpress.com/2018/12/08/italy-turns-the-black-tide/

ITALY TURNS THE BLACK TIDE
STATEMENT OF INTENT: Defence of equality and rights for ethnic-Europeans, to end anti-white racism, hate, and discrimination. Please share our stories. 
Italy is rejoicing as it is revealed that illegal sea landings have dropped by 80 per cent just one year after the country's new ethno-nationalist government enacted tough new immigration measures.  Just a year ago the black tide of Africa threatened to overwhelm Italy. Taking the credit is Italy's Deputy Prime Minister Matteo Salvini who enacted tough new immigration measures.
Between January 1st and December 2nd, 2018, 23,011 migrants swarmed to the shores of Italy compared to 117,120 over the same period last year, according to data published by the UN International Organization for Migration (IOM).
Italy has gone from the number one Mediterranean landing destination in 2017 to number three, after Greece (29,782) and Spain (52,678).  In contrast, socialist-run Spain has seen its migrant arrivals increase by more than two and a half times (263 per cent) from 20,043 to 52,678 across the same periods.
Italy's success was achieved by blocking private non-governmental organisation (NGO) migrant transport vessels from docking in Italy. These included the MV Aquarius and MV SOS Méditerranée.
After an eight-day standoff in the Mediterranean Sea, where neither Italy nor Malta would accept the vessel, Spain welcomed the Aquarius and its 629 sub-Saharan African migrants to its shores. Now, Spain's upmarket resorts experience their first waves of wandering tribes from the four corners of the Dark Continent.
Italy's new government, a coalition of the right-wing League headed by Salvini and anti-establishment Five Star Movement led by fellow Deputy Prime Minister Luigi Di Maio, toughened the country's position on illegal immigration. Meanwhile, Spain's Socialist Workers Party (PSOE) junta under Premier Pedro Sánchez has welcomed migrants.
In order to deal with the issue of illegal migrants in Italy, Salvini unveiled a security and migration decree which terminates humanitarian residency permits, which allows migrants to live temporarily in Italy who do not qualify for ordinary asylum and increases funding for deportation centres.  Some 2,000 migrants with the permit each month are expected to be deported when the law comes into force in January 2019 as the two-year limited visas expire.
Recently, Mr. Salvini told the European Union's Schengen Committee he does not want Italy to renew engagement in Operation Sophia, the EU-run venture where several member states partner to pick up migrants in the Mediterranean Sea, confirming the country's "unavailability" of landing ports. Italy was one of the first of a growing number of EU countries to refuse to sign the notorious UN Migration Pact.