Just to make sure I get my two cents in about ex-U.S. President, George H.W. Bush, I think he was one of the most vile, evil, non-human, high-level satanists ever to walk this Earth, willing to sadistically and repeatedly torture his own children (including ex-U.S.President George W. Bush), so that his children would become mind-controlled automatons without a properly functioning mind — living puppets who speak only words and contemplate only thoughts that their masters tell them to speak or think.

David Icke on George H W Bush
https://youtu.be/BQs3X030zkU
And so it is with great pleasure that I celebrate the death of George H.W. Bush and I proudly affirm that this creature, who successfully masqueraded as a human for far too long, should be sent directly to hell, without passing go, without collecting $200, and be quarantined there for the rest of eternity, never to reincarnate on Earth again.
The portal is now closed Mr. George H.W. Bush. You may not re-enter this realm. I will never again be willing to co-exist with you. You are permanently and forever removed from my world.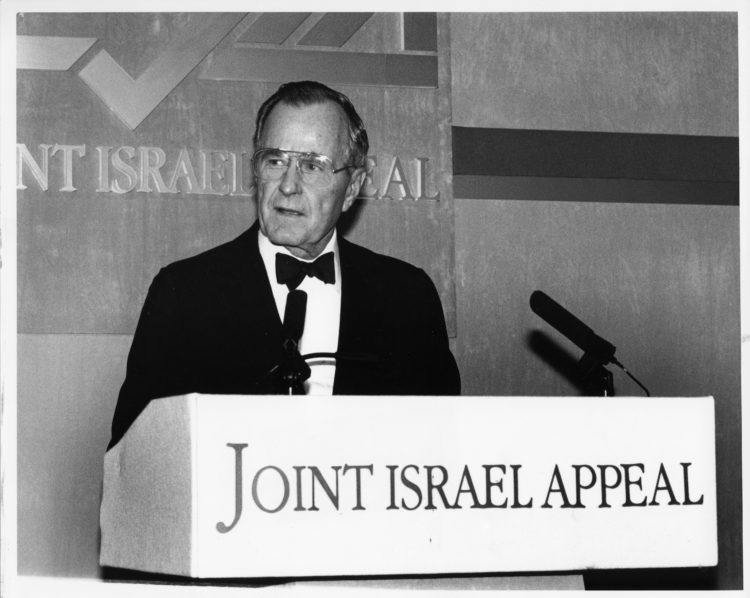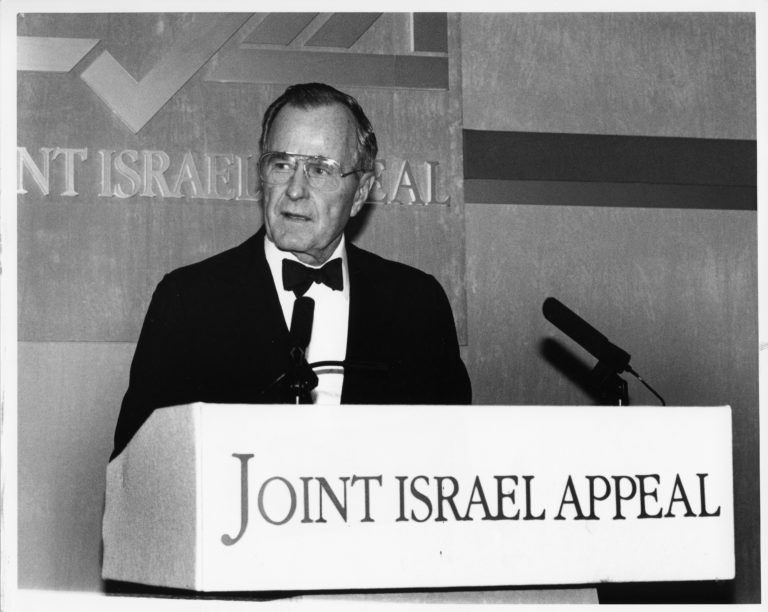 Source Article:
Dr. Pierce's Open Letter to George H.W. Bush
https://nationalvanguard.org/2018/12/dr-pierces-open-letter-to-george-h-w-bush/
With the 24/7 love fest of George H.W. Bush going on, I was reminded of WLP's not-very-complimentary "Open Letter to George Bush," written during the first Gulf war, Desert Storm. It gives a different view of Bush 41 than the mush America is getting dished up this week. — Will Williams, National Alliance Chairman
by Dr. William L. Pierce
George Bush
1600 Pennsylvania Avenue NW
Washington, DC 20500
Mr. President!
CONGRATULATIONS ON the outcome of your war! You really kicked the stuffing out of those Iraqi towel-heads, just like you promised you would.
Golly, it was a fun war! All of us television watchers got a real buzz watching your "smart" bombs blow those camel jockeys out of their bunkers and seeing your B-52s blasting the Iraqi population back into the Stone Age. Not that they had advanced much beyond the Stone Age even before you started the war — which is a good thing, I guess, because otherwise they might have been able to put up a real fight. You certainly know how to pick them, Mr. President!
As one ex-flier to another, let me tell you that when I saw our boys taking off in their jets from our bases in Saudi Arabia I was really itching to be sitting in the cockpit of an A-10, shooting up Iraqi armored columns with a 30-mm Gatling gun. There's nothing like a blood sport to build public support for a country's leader, as the Roman emperors knew, and the show you gave us was every bit as exciting as anything that ever happened in the Colosseum. You're right up there with Caligula and Nero now. Nobody will ever call you a wimp again!
For a while I was worried that some of those meddling peacemakers would short-circuit your ground offensive with their diplomatic maneuvers before you could get it started. I guess you had the same worry, but you handled the situation superbly by giving old Saddam an ultimatum you knew he couldn't possibly comply with and then launching your attack immediately, before any of those diplomats could get into the act again. Smart move!
Even smarter, I think, is the way you convinced the American people that your war was their war: the way you made them believe that they were fighting for their interests instead of for you know whose! It took you a while, of course, to come up with a credible reason for starting the war, and I must confess that at first I was embarrassed every time I heard you switch from one rather transparent excuse to another. I'll bet the folks over at the Israeli embassy were really becoming impatient with you. But then you hit on your "naked aggression" slogan, and they swallowed it. I mean, you even had the boobs repeating what you told them about it being better to fight Saddam in Baghdad now than having to fight him in the USA later! You were able to make them believe that old Saddam had the will and the means to pose some kind of threat to America, despite all of the plain evidence to the contrary. That shows real political skill! And when people are stupid enough to let themselves be manipulated like that, why shouldn't you do it?
I don't want you to think that I'm trying to flatter you, Mr. President: Of course, we both know that you weren't able to trick the people into supporting your war all by yourself; without the help of the controlled news media you couldn't have done it. I mean, suppose some of the news reporters had wanted to create a little doubt in the minds of the American people about your motives in wanting a war and had asked you some hard questions during your press conferences. Suppose they had asked you just what you mean when you talk about fighting for a "new world order"; suppose they had made you really explain that one. Or suppose they had pressed you for an answer as to just what threat Saddam could possibly pose to America. Or they could have given you a hard time with questions about whether it was worth the life of a single American to put the Emir of Kuwait back on his throne. They might even have asked you whether you deliberately set Saddam up by encouraging him to annex Kuwait in the first place. (Remember how your State Department told him last summer that the United States had no treaty with Kuwait and did not consider a dispute between Iraq and Kuwait to be of interest to us? Remember? You and Jim Baker really slipped one over on him, eh?)
But the reporters never put you on the spot, did they? They never asked you, "Hey, Georgie boy, isn't it true that Yitzhak told you that if you wanted media support for a second term you'd better smash Iraq for him?" They never asked you why you were so concerned about the rights of Kuwaitis and couldn't care less about the rights of Palestinians. And when you would start talking about your "new world order" at press conferences they'd just study their shoelaces and then ask you a question about something altogether different. They didn't even give you a hard time about atrocities: There was hardly a mention about our pilots strafing those buses full of Iraqi schoolchildren, or bombing that baby-formula bottling plant in Baghdad you said was a poison-gas factory, or targeting that air-raid shelter full of civilians your generals claimed was a military command bunker. Quite a difference from the way they reacted to My Lai, eh? Really good to see the media people acting like Americans for a change, wasn't it?
But, hey, you had the fix in with the media from the beginning, didn't you? I mean, I saw the sly smile on your face when you said that you could guarantee that your war against Iraq wouldn't be like Vietnam. What you meant was that you knew the people in the controlled media would be backing you instead of bucking you, like they did to Nixon. You knew you could count on their collaboration, because, after all, the people who pay their salaries are the people you started this war for. That's why NBC's Garrick Utley was smirking approvingly while some idiot he interviewed for the NBC Evening News just before your Blitzkrieg started was babbling about what a threat Saddam's aggression was to America and how we had to stop him now.
Of course, the less said about the stringpullers behind your war the better, right? I just thought I'd mention it, because there have been some leaks. I mean, some of our people thought it was really too much when the Israelis claimed we owe them $13 billion for not hitting back at Saddam for his pathetically ineffective Scud attacks, and these taxpayers said, hey, what about the $50 billion you owe us for fighting your war for you? But I think that most of the voters didn't pick up on that: They were too busy tying yellow ribbons on everything in sight. If you and Jim Baker keep up the pretense of applying pressure to Israel (that'll be the day!) to help cool things over there, the boobs here will never figure it out. I just hope you haven't left any tapes of Oval Office conversations between you and old Yitzhak lying around where some anti-Semite might find them and start blabbing. Remember what happened to Nixon?
Well, I'm sure you do, and I doubt that the true story about why you were so eager for this war will ever come out. I mean, why should it? After all, everybody — except the towel-heads, of course — is really happy about the way things have turned out. Not only did you give the Jews what they demanded, but you also gave the American people a real treat too. I mean, it feels so good to be able to be patriotic and to wave the flag without being attacked by the media as fascists or rednecks. And it's been a while since we were able to give somebody a real stomping without having to worry too much about him hitting back. I think it's good for everybody to let off a little steam and forget about domestic problems by kicking the bejesus out of a bunch of foreigners every now and then, don't you? And, of course, it didn't hurt a bit that your war took the pressure off a lot of people in the savings-and-loan business for a while, including your son Neil.
There are some party poopers, of course, who worry about what you've done to the image of America as a peace-loving, civilized nation. They say you made a mockery of the whole concept of collective security through the United Nations by bribing some countries and twisting the arms of others to put your "coalition" together. They say that what you did in the Persian Gulf was nothing but old-fashioned gunboat diplomacy at its worst — that you've confirmed what Third World people have been saying for years about "Yankee imperialism" and "neo-colonialism." Some bleeding hearts even complained that your bombing of the fleeing Iraqi troops who were leaving Kuwait, just so you could run the body count up to 150,000, was a shocking case of overkill.
Well, what the hell! Everybody knows that all of that liberal talk about respecting the rights of smaller nations and "the rule of law" in international affairs is a crock. The only law that rules is the law of the jungle, just as always. Might makes right, I say. I know you can't afford to say that yourself — at least, not publicly — but you let everybody know what you really think about international law and the rights of smaller nations when you invaded Panama to arrest their sleazeball of a president more than a year ago. Good move! We both know that force is the only thing greasers and towel-heads respect. We have to let them know that if they won't elect the kind of leaders who'll take orders from us, we'll kick their asses, as you yourself said so well during the (ha, ha) "diplomatic" phase of your war against Saddam.
Before I close this letter, Mr. President, maybe I should tell you about one little worry that I have. I know there's not much chance of this happening, but just suppose that some day this country gets a truly patriotic government — a government headed by people who put the genuine, long-term interests of the American people ahead of everything else, even the next election. Suppose such a government starts a formal inquiry into your war, and suppose you're still alive at the time. Suppose the truth comes out. It could be pretty embarrassing for you, if not downright dangerous.
I mean, your . . . how shall I say it? . . . your criminal use of American resources and military personnel — sending American soldiers off to kill and be killed for the benefit of a foreign power instead of to defend genuine American interests — might be construed as treason. And what you did to the Iraqis might be considered genocide. Not that I look at it that way, you understand, but somepeople might. Suppose people of that sort get into the government, Mr. President.
Where will you hide?
* * *
Source: National Alliance flier (June, 1991)